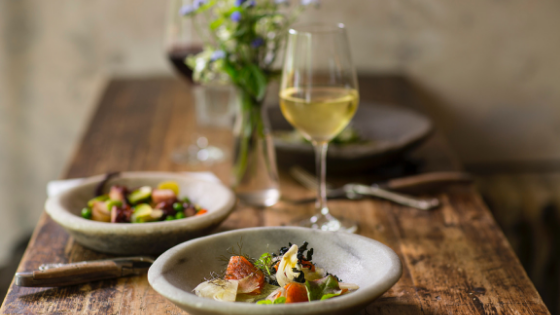 Happy hour is an awesome time to spend a couple of hours with friends and unwind after the workday is done. Fortunately, there are dozens of great places surrounding our Chicago, IL apartments, which is just one of the many reasons our residents love our community.
Before you set out on your next happy hour adventure, check out these facts that'll help you pick the right appetizers for your drink of choice
#1) Pair beef sliders with a simple cabernet
Red wine and red meat tend to work well together all the time. If you're opting for mini burgers at your go-to spot, a simple Cabernet or Merlot will complement the natural flavors of the meat perfectly.
#2) Rieslings love spicy foods
If you're dying to try that super spicy shrimp cocktail that's on the menu, let that craving guide you toward the brightness of a lovely Riesling. The apple-and-citrus notes will play well against the spice imparted onto seafood and other spicy white meat apps.
#3) Sauvignon blanc bolsters the flavor of vegetarian dishes
The grassy, citrusy nature of Sauvignon Blanc enables it to showcase the flavors of veggie dishes that aren't otherwise empowered by strong proteins. It loves all things cheese, and it's not afraid of asparagus, herbs or raw tomatoes.
#4) Cheese likes whiskey, too
If you're not feeling the grapes today, that's okay! There are plenty of other adult beverage options that go great with common appetizers. Strong cheeses go great with smokey or spicy whiskeys. If you're opting for an appetizer that features a softer cheese like brie, shoot for a sweeter scotch.
#5) Salty food will Make you love your beer even more
That's not necessarily a good thing, so proceed with caution. It's important to know that your body may be tricking you when you suddenly have cravings for all those chips, chicken fingers, and everything else you might not consider eating if you weren't indulging in happy hour. Of course, as you eat, you'll become thirsty, and the thirst mechanism in your brain will want another brew. It's a fun cycle in moderation. Just be wary of the intention of those salty snacks!
There's no shortage of fun to be had around our River North Park apartments. Whether you prefer to stay in and have a quiet dinner alone, or you'd rather be out with a big crowd, we've got you covered. Stop by so we can show you around!