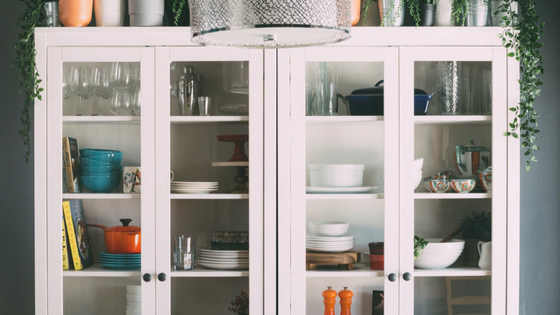 Convertible apartments are also known as junior one-bedrooms or flex-apartments, and they are very similar to a studio but larger and have distinctly separated areas most often allocated by residents as a bedroom. Those looking to maximize on the space provided in a convertible apartment should consider these easy tips.
Incorporate a Room Partition
Foldable room partitions are one of the most common ways residents like to separate their convertible space in our Chicago apartments. These can be semi-sheer, opaque for maximum privacy, or they can feature ornate patterns and designs to enhance your interior decor. The best part of folding dividers is that they easily store in the oversized entryway closets we offer at River North Park Apartments.
Creative Room Dividers
A semi-permanent room divider option such as dual-faced or open cubical shelving with drawers can serve as a barrier between rooms and as a place for storage. Open shelves will permit more natural lighting to flow through, while traditional shelves or portable walls will provide more privacy and allow less light.
Maximize Space With Double Duty Furnishings
While room dividers can serve this purpose, there are more ways to make the most out of your convertible apartment space. By choosing small-scale pieces that offer both surface space and storage space such as opening ottomans or coffee tables, the space will feel larger and less cluttered. Other ideas include using totes for extra under-bed storage and television stands with concealed storage.
Look Up…Envision Storage
Thinking vertically can literally transform the way you view and utilize your space. Upright bookcases, vertical racks, over-the-door hooks or shelves, ceiling racks and stackable bins can become displayable pieces of art where you showcase your goodies or keep frequently used items handy. Vertical pole stacking shelves in bathrooms offer extra storage for towels and hygiene necessities without needing to drill holes or alter the bath whatsoever.
Discover River Front Living at Our Chicago Apartments
Our convertible apartments in Chicago, IL are comfortable and offer our residents pristine river views, ample space and provide access to many of the most desirable community amenities in the Windy City. Contact River North Park Apartments today to inquire about our current availability.